[ad_1]
The Davenport High School theater group is back on the physical scene after the pandemic pushed its productions outside.
Their production of Chris D'Arienzo's musical "Rock of Ages" premieres Thursday and features two different actors doing their own renditions of the '80s rock-inspired show.
Last year, students put "Grease" in the school parking lot in a cold wind, running back and forth to set up and take down sets.
Now that they're back in the theater, they're excited to perform on a real stage after practicing vigorously for about four months and under the guidance of a new theater director.
"It's stressful but it's what I love to do, it's pretty much my job and I can't see myself doing anything else," said Davenport High School theater director Abraham Ramirez. . "It's a loving stress and we do shows after a year and a half without doing shows."
Ramirez has taught theater education for almost a decade and has worked in professional theater for three to four years.
He said he was proud of the students working under the direction of a new principal and under new circumstances. The high school production is about the rock community, from fans to aspirants musicians, who band together to try to save Sunset Strip from the developers.
The songs range from flashy glam to classic rock, like a medley of "We Built This City" by Starship that turns into "Too Much Time" by Styx.
The musical also includes "Here I Go Again" by Bon Jovi and Whitesnake.
Davenport High Sr. Jasmati Evans was in last year's "Grease" production and said this year it was more like a real show that was back in the spotlight. As a senior, she envisions schools and wishes to pursue her career in the performing arts, such as acting and singing.
"It looks like a production this year and it's a lot more difficult," Evans said. "It's really fun."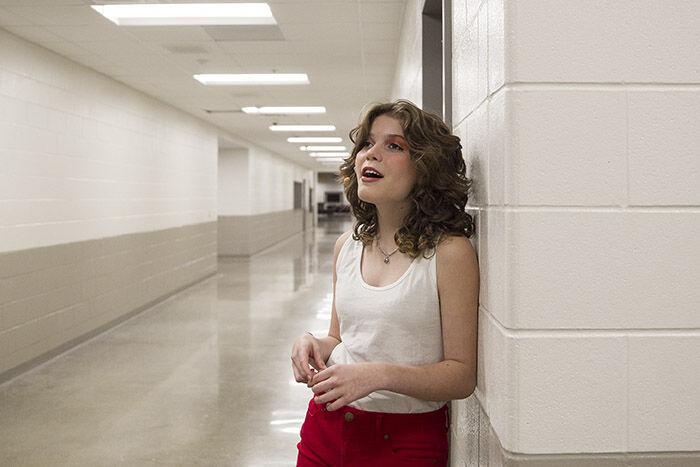 Evans stars as Sherrie Christian, an ambitious resident of outside Oklahoma who pursues her dream of becoming a star in sunny Los Angeles.
Davenport High sophomore Sophia Blunt was also on "Grease" last year and plays Sherrie in the other cast.
"It's a different experience to be outside first and now the production is on our stage and it's a lot of fun," Blunt said.
Davenport High junior Charlie Hogue plays Drew Boley, who wants to be a rock star and falls in love with Sherrie, played by Evans.
Hogue was a tech for the production of "Grease," and now with a lead role, he's excited to mold Drew into his own version of the character compared to the other cast's version.
"It's trying to make my character mine," Hogue said. "My voice is higher than his since I'm in the upper octave so I don't want to sing lower. [Drew] is a basic hero, he is not very smart and spoils things. He just wants to be with Sherrie.
The cast members said the show was fun but also uplifting as the songs are extremely energetic and the cast members aim to emulate the vocal styles of the '80s rockers.
The musical centers around the romance of Sherrie and Drew, who faces a bump when fictional rock star Stacee Jaxx is invited to perform at the Bourbon Room to avoid her being redeemed.
Davenport High junior Christian Christovich has said his character Dennis Dupree is stressed out trying to save his bar.
"He's very tired, he loves rock and roll and he's very much in love with Lonnie," Christovich said with a laugh. "He's trying to keep the bar and the strip from going out."
As a freshman, Davenport High student Derek Lock said he has had acting experience since college and was excited to do the show in a high school cast.
"In college it was really slow and so 'Rock of Ages' is so much fun being a part of the cast and singing the songs that I love and know, and I listen to them a lot," Lock said.
Ramirez said he was proud of how hard the kids trained, after school almost every day and moving from the outdoors to a real theater space.
"These are the most hardworking kids I've ever worked with, especially with me, there's a whole new teacher, a new energy, a new dynamic," Ramirez said. "We hit the ground running and we went there and haven't stopped since. I can't wait to see both actors and finally see them shine.
Tickets
The shows are at 7 p.m. from Thursday to Sunday. Saturday and Sunday have two screenings: 2 p.m. and 7 p.m.
Doors open 45 minutes before the show's start time, and general admission tickets cost $ 15 the same day.
For tickets go to https://comalisdprograms.brushfire.com/dhs-rockofages/519611
[ad_2]